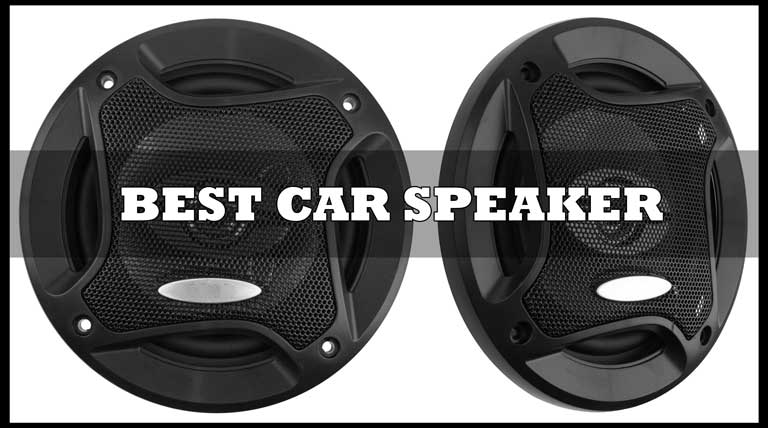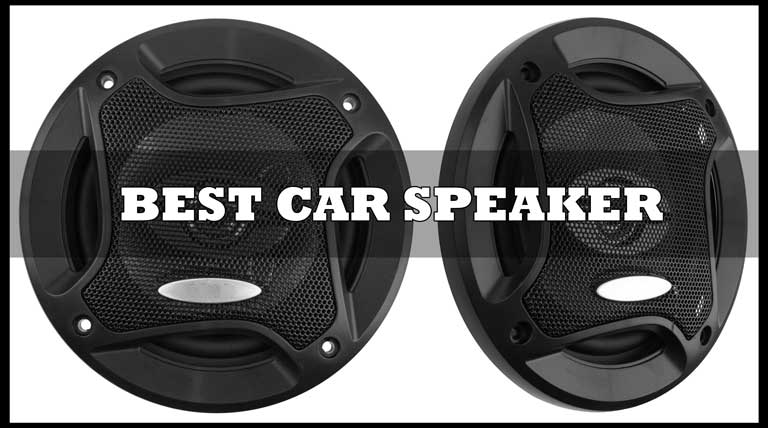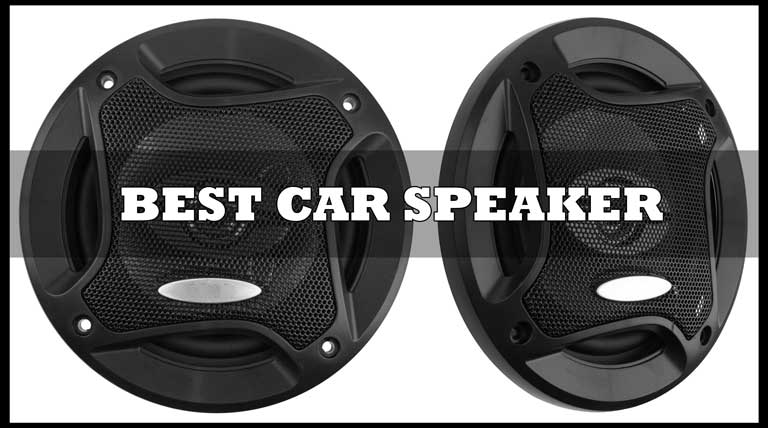 Driving or taking a road trip is more fun and exciting with good music playing in the background.
Music sounds better, and it's more appreciated when listened to via a good car speaker. For great sound quality, sound engineers have come up with ideal speakers that would help you travel at ease.
Choosing the best car speaker can be a big task, especially when you are new into it. There are several factors to consider when getting a door speaker for the car.
This article is aimed at easing the selection headache by offering you a list of quality car speakers to choose from, both coaxial and component speakers. These speakers are known to offer good bass and premium sound quality.
| NAME | IMAGE | OUR RATING | PRICE |
| --- | --- | --- | --- |
| JBL GTO609C Premium 6.5-Inch Component Speaker | Insert Custom HTML | | |
| | [easyazon_image align="none" height="61″ identifier="B007SNMQDQ" locale="US" src="https://m.media-amazon.com/images/I/514hK0S5g8L._SL75_.jpg" tag="sacredcar-20″ width="75″] | | |
| ALPINE SPR 69 2-Way Coaxial Speakers | Insert Custom HTML | | |
| JBL-GTO939 Premium Coaxial Speaker | Insert Custom HTML | | |
10 Best Car Door Speakers For Bass & Sound Quality:
We have divided the 10 reviews into two parts, i.e. best component speakers for sound quality (first five of the top 10 list) and best coaxial speakers for bass. (last five of the top 10 list).
1. JBL GTO609C Premium 6.5-Inch Best Component Speaker
One brand that has become synonymous with premium sound quality is JBL. The company features a team of engineers that came up with innovative technology to improve the sound quality of a stereo. This model of JBL car speaker is one of the most durable and affordable car speakers that offer a great listening pleasure for your driving experience.
This is probably the best 6.5-inch car speaker available on demand. It features carbon-injected cones. Their cones are bigger than others in the same size class. This means that they tend to stir more air and produce more bass. Also, this carbon-injected cone material makes the cone lighter and stiffer, thus giving a better low-frequency response and helps you identify those musical notes that are normally heard on only big speakers.
One other amazing feature of this car speaker is its ability to match the sharp, clear sounds of systems powered with head-unit or factory amplifier power levels, and also those systems with one or more subwoofers.
This is made possible by its great power-handling specifications capable of delivering up to 270 watts of power, thus making the speaker reliable.
That's not all; there is an addition of oversized voice coils in the soft-dome tweeters that helps the audio system maintain smooth, fatigue-free highs.
There is also a dual-level tweeter volume adjustment installed in this car speaker. This can be set to suit your musical preference as you enjoy a delightful ride in your automobile.
This car speaker has low impedance because it features three-ohm s speakers to make up for the tiny wires used in modern-day car manufacturing.
You can go ahead to say that this model of the JBL speaker is the 6.5-inch speakers because of its distinct features.
Key Features
Oversized voice coils

Three-ohm speakers

Original I-mount system

Dual-level tweeter volume adjustment

Carbon-injected plus one cone

270 watts handling capacity
2. Infinity Reference 6500CX 2-Way Car Audio Component Speaker
[easyazon_image align="none" height="407″ identifier="B007SNMQDQ" locale="US" src="https://m.media-amazon.com/images/I/514hK0S5g8L.jpg" tag="sacredcar-20″ width="500″]
This is a unique two-way car audio system considered to be one of the best component car speakers because of its many wonderful features. It offers you good listening pleasure while you drive, thanks to its stylish woofer and tweeter combination.
A quality speaker should have proper power handling, and this model speaker exemplifies this. It has a peak power handling of 540 watts per pair; that is 270 watts each. Its peak power RMS is calculated to be 180 watts per pair.
The Infinity Reference car speaker has a tweeter size of 1-inch. This helps you play and listen to music or other sounds at high frequency better than other car speakers. Due to its short wavelength, it also possesses a better off-axis response.
It is a very affordable car speaker, and with a sensitivity of 93 dB, it has become a must-have. The sensitivity level of this speaker functions to deliver a good listening level to match with the wattage used.
Also, it has a top-mount depth of about 2-1/16 inches. This feature makes the speaker create a great surround feel in the car, so you get to enjoy the music playing better. This speaker does not require an additional amp.
It pairs well with a stock head unit, and it also makes use of three-ohm speakers to balance the use of short wires. This gives the speakers low impedance.
Key Features
540 watts peak power

1-inch tweeter size

Sensitivity of 93dB

Three-ohm speakers
3. Polk Audio DB6501 6.5-Inch 2-Way Component System
[easyazon_image align="none" height="346″ identifier="B000P0R6LQ" locale="US" src="https://m.media-amazon.com/images/I/41lSW9Ti-gL.jpg" tag="sacredcar-20″ width="500″]
Few speakers can match the affordability and sound quality that the db6501 provides. It is not just known for its sound quality, but also its easy installation thanks to the featured adaptor rings fitted into this wonderful car speaker.
Polk Audio is an engineered sound speaker that has so many incredible speakers. Each is layered to improve the listening experience as you go on that long road trip. With a peak power handling of 300 watts and an RMS of 100 watts, this speaker is ranked as an ideal speaker worth spending the money for.
This fantastic Polk Audio speaker is most suitable to be used in boats. This is because the speaker was designed with some high-quality materials, which make it able to withstand tough conditions.
Just like other speakers, this one also comes with woofers, tweeters, and crossovers. The crossover used is the Butterworth filter crossover. It is used to create a balance between high and low frequency in the speaker. The low-frequency output in the speaker is more efficient and improved in this speaker because the crossover also uses vented housing.
That's not all
The tweeters of the Polk Audio are made with a 25mm polymer dome that functions as a sound quality optimizing agent in this speaker. It helps to ensure that while you are driving, every musical note or sound playing from this speaker is very clear and audible.
Also, butyl rubber surround is added to the 6.5-inch woofers of this speaker to enhance the sound feel within the car and improve its quality. This butyl rubber is very durable. The kapton voice coil is also an added component to the woofers of this speaker. Its primary function is to ensure that heat is handled properly and that the power handling is more efficient.
The high frequency of this speaker is efficient because of the addition of Neodymium magnet. ABS Grilles is added too to ensure that the speaker is even more protected from external factors. The impedance level of this speaker is as low as 4 ohms, while its sensitivity is as high as 92 dB.
Key Features
25mm polymer dome tweeter

Neodymium magnet

Kapton voice coil

Butyl rubber surround

4 ohms low impedance

Sensitivity of 92 dB

Butterworth crossover
4. JBL CLUB6500C 6.5-Inch 360W Club Series 2-Way Component Car Speaker
[easyazon_image align="none" height="500″ identifier="B01KW1F4GQ" locale="US" src="https://m.media-amazon.com/images/I/51QEpEyDL5L.jpg" tag="sacredcar-20″ width="500″]
This is another high-quality speaker in the JBL club series. It was manufactured by a team of engineers in Mexico, and functions to improve the sound quality of your car. JBL products are very affordable, and this model is no exception.
JBL Club 6500C is a component sound system that consists of two woofers, two tweeters, and two crossovers.
Thanks to its unique 6.5-inch polypropylene Plus One woofer cone, this speaker gives you a better sound quality compared to other speakers. It also makes the speaker perform very well under cold weather conditions.
It also features a 3/4-inch edge-driven PEI tweeter that helps to expand the frequency range. Once this range is increased, you are likely to get more audio clarity while you enjoy your smooth drive.
The 6500C can handle up to 60 watts RMS, and it has a peak power of 180 watts, thus improving its reliability and efficiency.
Just like other models, it has a low impedance of 3 ohms that draws its power from the car stereo, although it's best to use an outboard amp.
They also included grilles in the production of this speaker. Its principal function is to allow sound pass through while protecting the internal components of the speaker and driver element from foreign objects.
The frequency response of this speaker is 55 – 20,000 Hz, while its sensitivity is 92 dB, and the woofer top-mount depth is 1 – 3/4-inch.
Key Features
6.5-inch polypropylene Plus One woofer cone

3/4 edge-driven PEI tweeter

Peak power of 180 watts

3 ohms low impedance

Woofer top-mount depth of 1- 3/4-inch
5. Kenwood KFC-P710PS 6.5-Inch Component Car Speakers
Kenwood is another top brand that is known for excellence in terms of great sound quality. Their stylish designs give them an edge over other sound companies and put them up there as the company with the best car speaker for sound quality.
The complete component system of this model comes with 2 mid-woofers, 2 tweeters, and 2 crossover networks. Each one of them has a unique feature that helps to create a well detailed and optimized sound for you as you journey in your car.
Enjoy high quality and well-balanced sounds thanks to its excellent 1-inch swivel dome tweeter. This feature creates a perfect balance between high and low-frequency sounds so that listening to the stereo over a sustained period in the car does not have an itching effect to the ears.
This model of Kenwood speakers is a high power handling speaker with a peak power handling of 280 watts and an RMS of 80 watts. This feature ensures that the wattage of the stereo is used efficiently for your listening pleasure.
There is a never-been-seen-before advanced crossover network that improves the sound quality from any position in the car. With an added amplifier to this speaker, be sure to enjoy well-detailed clears and highs like never before.
The diamond-patterned mid-woofers are made with rubber surround that also helps to improve the sound quality of the speaker in the car. With a low impedance of 4-ohms and high sensitivity of 86 dB, it is little wonder this speaker is rated very high. Its frequency response is 63 – 24000 Hz so as to avoid distortion in tuning.
Key Features
Rubber surround

Advanced crossover

Peak power of 280 watts

4 ohms impedance

1-inch swivel dome tweeter
6. ALPINE SPR 69 2-Way Best Coaxial Speakers For Bass
Alpine 2-way coaxial speakers are a type R Series and are most ideal for a superior bass quality. Their sound quality makes a long trip enjoyable and seamless. Their bass line does not cause itching to the ears, which makes it ideal to use for an extended period.
No matter the volume range or frequency range, you still hear the audio very clearly without any distortion. You can even say boldly that it is the best car speaker for bass lines.
It has a peak power of 600 watts at an RMS of about 200 watts. There are no additional accessories like amplifiers needed to enjoy quality sounds from these speakers.
There is the presence of a new style grille that offers full woofer protection from external objects along with a unique modern design. This provides long-lasting durability for the speaker.
Also, there is a ridged surround that fills the entire car with the right bass sound. It provides a smooth, consistent cone movement. This functions to produce balanced and clear audio.
For easy handling, the Alpine SPR-69 contains a neodymium magnet with standard technology that keeps the speaker at a lighter weight than other products.
The speaker uses a multi-layer hybrid fiber cone that delivers a powerful bass response in the speaker. There is also a large aluminum voice coil that provides the speaker with the strength to handle high power levels.
The frequency response of the Alpine SPR-69 is 60 – 29000 Hz and the impedance is as low as 4 ohms. The sensitivity rating of this speaker is 90 dB which makes tuning seamless
Key Features
Aluminum voice coil

Multi-layer hybrid fiber cone

Ridged surround & New style grille

The frequency response of 60-29000 Hz

4 ohms impedance
7. JBL-GTO939 Premium Coaxial Speaker
You cannot talk about the best coaxial car speakers and not mention a product from the JBL model series. The speaker matches and tries to better the quality of other head-unit or factory-amplified powered systems.
JBL engineers designed the GTO 609C component speaker to produce sharp, clear sound from a head-unit or amplifier capable of delivering up to 270 watts of power. And its great power-handling specifications also increase reliability over the lifetime of the speaker.
This speaker features a unique carbon-injected Plus One cones, which helps to move more air and make more bass. They are often larger than other speakers in the same class.
Soft-dome tweeters added to this speaker feature oversized voice coils that dissipate heat faster and with greater power handling resulting in smooth, fatigue-free highs in the speaker.
There is a dual-level tweeter volume adjustment that makes up for the not-so-good speaker placement. This can be adjusted to suit your personal listening choice and musical taste while optimizing the sound quality.
Due to tiny wires, low impedance is achieved by using a 3-ohm speaker. This makes the most of the wattage of your car stereo.
A high-quality crossover with the sensitivity of 12 dB helps to channel the highs and lows to the appropriate sub-divided speakers for the best-balanced sound.
The fiberglass-reinforced plastic that is being used in this speaker functions as a warp resistor, even if you place them on uneven surfaces. It also features a non-magnetic carbon composite to control the energy given off by the magnet and send it to the voice coils rather than giving it off as heat.
The FRP does not resonate. This makes for accurate, and optimized bass sounds in the car.
Key Features
Carbon injected Plus One cones

Low impedance of 3 ohms

Fiberglass reinforced plastic

Dual-level tweeter volume adjustment

High-quality crossover & Soft-dome tweeters

Non-magnetic carbon composite
8. JVC CS-J620 2-Way Coaxial Car Speakers
Another top sound company that is making waves with their well-engineered speaker designs is JVC. They are known to produce durable, long-lasting speakers that are affordable. This does not, in any way, affect the quality of the speakers they manufacture.
One standout feature this company is known for is their high-power and bass resonance management. This two-way car speaker has a peak power handling of 300 watts and an RMS of 30 watts per pair. This allows you to maximize the full potential of this speaker by introducing a modest amplifier to it. This also helps to create a perfectly balanced sound in the car.
This model from JVC comes with a hybrid surround and mica cone that's assembled onto a stamped steel frame, to provide you with speaker sets you can afford with the intention to meet your listening needs as you take that long trip in your car.
It uses a 1-inch polyetherimide balanced dome tweeter in order to handle the highs that cheap speakers cannot reach. This makes the speaker a significant upgrade. The polyetherimide material allows you to achieve the speaker's 22,000 Hz frequency peak while driving.
The CS-J620 uses a hybrid, rubbery, and cloth surround with mica cone to process low end and mid-range sounds. These materials, together alongside the tweeter, present a proper full-range sound that fills the entire car at the optimum level.
It can also be considered as the best door speaker for bass because of the addition of a 1-inch shallow frame. This feature helps to relieve the worry of hitting a window track, glass, or other obstructions within the door panel.
Key Features
Peak power handling of 300 watts and RMS of 30 watts

Mica cone and hybrid surround

1-inch polyetherimide balanced dome tweeter

22000 Hz frequency peak

Shallow frame
9. Kicker DS65 Coaxial Speakers Pair
The 6.5-inch Kicker DS65 is a quality speaker that makes you enjoy driving and road trip experience more than ever. No matter your preferred music genre, you are guaranteed a wonderful listening time thanks to this speaker.
It is one of the most affordable speakers amongst various coaxial speakers. It is also very easy to install too. Its durability is improved because it uses a heavy-duty structure component.
Several features have been put together to create the perfect bass line, chief among them is its linear excursion property. This unique property is aided by a Ribbed UV-treated surround that moves air more quickly than most speakers. The Ribbed UV- treated surround also enhances the low frequency of this speaker too and optimizes the high frequency.
In the woofers, the engineers added an extended voice coil (EVC) to make the bass sound cleaner and less itchy. Lovers of hip-hop and jazz are in for a treat thanks to this feature, thus making the road trip experience worthwhile.
For well detailed and optimized sound quality, oversized voice coils are added to the titanium-dome tweeters.
The peak power outage of this speaker is 100 watts, and it has a low impedance of 4 ohms. The low power usage also improves the durability of this speaker. This speaker is highly sensitive and has a frequency response of 50 – 20000 Hz.
Key Features
Heavy-duty motor structure

Extended voice coil woofer

Ribbed UV-treated surround

Titanium-dome tweeters with oversized voice coils

Frequency of 50 – 20000 Hz
10. Pioneer-TS-A1686R 350-Watt 4-Way Speakers
Pioneer TS is a top model coaxial speaker that gives listeners premium sound quality that makes driving more fun and exciting. It is engineered to optimize high and low-frequency sound better than most other speakers.
It is very affordable and easy to install. The woofer cone of this speaker is made with carbon and mica reinforced injected polypropylene. This feature is used as the surround and improves the sound feel in the car.
The top mount depth is 2/3-8-inch, which makes the speaker move air and dissipate heat quickly while maintaining an optimized low frequency. It also uses a high heat resistant voice coil of 11.2 oz., which tends to improve the durability of the speaker.
This 6.5-inch Pioneer TS is shielded from external factors by the featured ferrite magnet motor structure grilles. This grille also moves out air from the speaker without rupturing the internal features.
Here's the catch
Its 88 dB makes it a very sensitive speaker and at a frequency response of 36 – 25000 Hz. The power handling is at its peak at 350 watts and an RMS of 80 watts, and also has a low impedance of just 4 ohms.
Key Features
Frequency response of 36 – 25000 Hz

Peak power handling of 350 watts

RMS of 80 watts & 4 ohms impedance

Carbon and mica reinforced polypropylene

Top mount depth of 2/3-8-inch
Component Vs Coaxial Speakers
There are several differences between component and coaxial speakers. While one is best for sound quality, the other is known for its bass. Knowing what they are and how they function can help you identify major differences.
Component Car Speakers
Component speakers are a unique model of speakers that optimizes high, mid, and low range frequency effectively. These brands of speakers feature a tweeter and a woofer and the sound produced are evenly split. They have unique features that ensure that you have a well-detailed listening experience.
Every single not is audible and clear because the tweeter and woofer combine effectively to distinguish between low frequency (bass) and high frequency (treble)
These brands of speakers tend to have a better clear tone because of their crossover networks and can produce high frequency beyond normal. They are easier to replace compared to other speakers.
Coaxial Car Speakers
They are also called the best full range speakers. This is because they tend to produce a large audio frequency range from a single unit. They are more affordable and most available in large varieties in the market.
The coaxial speaker is engineered in a way that all of its components are uniquely fused. That is the woofer, the tweeter and sub-woofer are somehow attached to each other. This makes the installation of this type of speaker easier.
Also, coaxial speakers have inbuilt crossovers, and the woofers also have features that enhance the low frequency. The low frequency enhanced makes them produce better bass quality than other speakers.
Differences between Component and Coaxial Speakers
Component speakers are known to produce better sound quality compared to coaxial speakers. This is because each speaker can be customized and repositioned to create a better soundscape in the vehicle.
Also, component speakers are not direct fit and need crossovers to produce good sound quality.
On the other hand, coaxial speakers prioritize cost over quality. This simply means that they are very affordable and easier to install. These full-range speakers can also produce good sound quality, but they are most ideal for optimized bass sounds. Their full potential is maximized when you add a crossover to the speaker.
How to Choose the Best Car Speakers For Bass & Sound Quality
Several factors are considered when choosing the right car speaker, especially if you are a novice in terms of sound. While some speakers give you good sound quality overall, some others are good for their bass.
Some of the qualities to be discussed include cost, power handling, sensitivity, impedance, durability, speaker build materials, and sound quality.
1. Sound Quality of the Speaker
The most important criterion to look out for is the quality of the sound produced by the speaker. Component speakers are known to be the speaker brand with the best sound quality. On the other hand, if you are more interested in getting an enhanced bass speaker, then your preference should be focused on coaxial speakers.
A speaker with good sound quality produces sounds that are well-detailed and clear. You can easily hear some notable musical notes that ordinarily cannot be heard by normal speakers.
Also, the sounds produced should not have an itchy effect on the ears; rather, it should be enjoyable and help to ease your journey.
It should be able to able to balance high and low-frequency to give you optimized listening experience. Each one of the speakers should be able to play their roles effectively, whether there is a modest amplifier or not.
2. Durability
It would be annoying to be replacing car speakers at regular time intervals. If you get a car speaker, it is expected that every side of it functions properly for at least a year.
So, the durability of a speaker is essential. In the long run, it saves you a lot of money, which can be used to set up other things.
How do you check for durability?
You do this by first checking for its performance level at different weather conditions. Some car speakers perform poorly when subjected to intense heat, while some don't function well in cold temperatures. A durable speaker should be able to optimize its performance to suit any weather condition.
Also, you check for the surrounding material used in the production of the car speaker. It has been proven beyond every reasonable doubt that rubber surrounded car speakers are the most durable of all car speakers. Other materials that improve durability include graphite or silk for the tweeters, stiff and lightweight materials for the woofers. Also, polypropylene can improve durability.
3. Speaker Build Materials
This refers to the components attached to the speaker when you purchase it. Car speakers are expected to feature tweeter and a woofer.
These two components go a long way to balance and give off good sound.
The tweeters are expected to produce high audio frequencies from 2000 to 20000 Hz. They help to produce the treble part of sound.
The second component is the woofers. They are made of lightweight materials and known to produce the best bass sounds. It also produces other low frequency sounds too.
Other components in a car speaker may include subwoofers, midrange, crossovers, amplifiers, etc.
The crossover is one important feature that cannot be found in full-range speakers. It was designed to feed signals to other speakers to produce the sound range they were designed for.
Amplifiers are used to enhance the quality of the sound. Simply put, it helps the car speaker maximize its full potential. Midrange produces sound in between the tweeters and woofers
4. Power Handling of the Door Speaker
A speaker's peak power handling refers to the highest amount of power a speaker can use effectively.
Different sounds draws different amount of power from the stereo. So a good speaker should be able to normalize all genres of music without worrying about distortion.
The ideal car speakers are known to have a peak power handling of at least 200 watts. This gives you room to play music as loud as you want, no matter the genre freely.
Root Mean Square peak power designated as RMS refers to the amount of continuous power drawn that can be handled by the speaker. Coaxial speakers are known to feature models with high peak power handling.
5. Low Impedance
Impedance simply means the resistance to the flow of current.
Low impedance is good for speakers, but it shouldn't be too low. If the impedance of a speaker is too low, it draws a lot of current from the receiver, which can damage the speaker.
Impedance is measured in ohms. Ideal impedance levels for speakers should be 3 or 4 ohms.
This is because modern-day cars feature lots of tiny wires. So for the speaker to achieve a good sound quality, low impedance has to be included.
Both coaxial and component speakers have model speakers that possess this important feature.
If this feature is not properly in place, you stand a risk of blowing out the speaker very quickly, especially if you are one to like loud music.
6. Sensitivity of the Speaker
Sensitivity in a speaker is simply how well a speaker converts power to sound energy.
The higher the sensitivity of a speaker, the lesser the energy required to produce quality sound.
This simply means that when purchasing a speaker, you should look out for the sensitivity of the speaker if it is high or low. It is advisable to go for speakers with sensitivity; they produce better sound quality.
Also, high sensitive speakers are resistant to distortion and very efficient when you are tuning.
7. Car Speaker Price
An important criteria to look out for when getting a car speaker is the cost. No one would like to get a product that is way above their budget. So you have to consider your budget and stick to a car speaker that you can easily afford.
A car speaker is a luxury that can be forgone, so if you must get it, then the price you got the speaker should not be unnecessarily high.
You can as well compare different price range for different car speakers, and with that, you can easily choose a quality speaker that matches your budget to avoid running into debts.
By now, you should know that coaxial speakers are the cheapest brand of speakers available. So, if you are operating a tight purse, or you are currently low on funds, then I think the bulk of your search should center on the coaxial brand speakers. This helps to reduce your search time a great deal and help you make better decisions.
Verdict: What's the Best Door Speaker For Bass & Sound Quality?
Car speakers have become important in recent times. Good music from a good car speaker helps to ease off the stress of being on the road for a long while. A car speaker should be able to produce good clear sound and at an optimized bass level
Trying to choose the best car speaker is a long selection process. You have first to decide if you want to get a component speaker (quality over cost), or a coaxial speaker (cost over quality).
After this, you have to consider several other factors too, ranging from cost to sensitivity to durability, etc.
Reference: https://www.carsumu.com/best-car-speakers-for-bass/